The Scattered islands
The Eparses islands consist in five islands or archipelagos located in the Mozambique canal (Europa, Bassas da India, Juan de Nova and Glorieuses) and north of La Réunion (Tromelin). Thanks to a mild tropical climate, they host important populations of birds and marine animals. Europa, Juan de Nova and Glorieuses are permanently inhabited by a detachment of 14 soldiers and one gendarme, while three TAAF agents (one technician, one environmental ranger and one and a nurse) settle in Tromelin.
Tromelin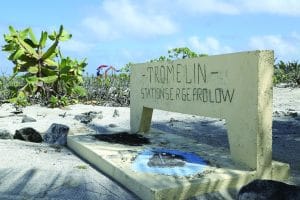 Tromelin is a tiny almond-shaped coral island (1 km²) located north of La Réunion. Tough environmental conditions (high salinity, high winds, cyclonic swell…) explain the homogeneity and the low biodiversity visible on the site in regards to the other Eparses Islands. Flora is mainly composed of fat grasses and sparse trees. Fauna is made up of abundant sea bird populations (masked booby, red-footed booby, white tern) and green tortoise colonies.
Glorieuses archipelago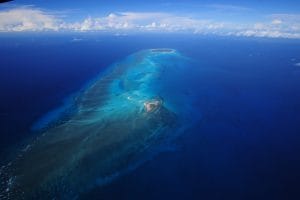 The Glorieuses archipelago, situated in the north of the Mozambique canal, consists in Grande Glorieuse island (3 km in diameter), where human activities are concentrated, Lys island (600 m in diameter), and Crab and Green Rocks islets.
The archipelago hosts an important vegetal biodiversity, due to a mild climate, and numerous populations of terrestrial and sea birds (sooty tern, brown noddy…). The beaches are well-known green turtle egg-laying sites.
A marine natural park (PNM des Glorieuses) was created in 2012 to protect the surrounding seas.
Juan de Nova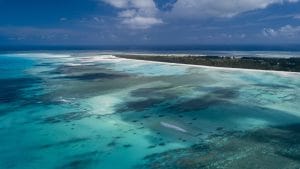 Juan de Nova is located 600 km south of Mayotte and 280 km west of Eastern Africa in the Mozambique canal. It is a crescent-shaped island spreading over 6 km from one tip to the other, and protected by a large lagoon and a coral reef.
The face of the island has been largely modified by human activities: mining operations (phosphate) during the twentieth century, introduction of coconut palm and casuarinas… Nevertheless, the mild climate has fostered a lush animal and vegetal biodiversity. Sooty tern colonies are among the largest of the Indian Ocean, while the coral reef hosts an important marine life, and the beaches constitute green and hawksbill turtles breeding sites.
Bassas da India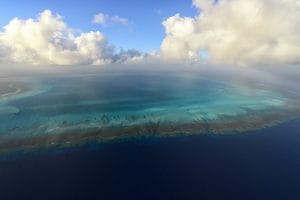 The Bassas da India is a madrepodic atoll submerged at high tide, located 380 km west of Morombé (Madagascar). It forms a 10,5 km wide circle in which traps a shallow lagoon. Due to the absence of human presence on site, the island remains free from anthropic pressure.
The true biological richness of Bassas da India is undersea. However, lack of infrastructure and precarious accessibility makes the knowledge of the island's marine biodiversity still to be studied and enriched.
Europa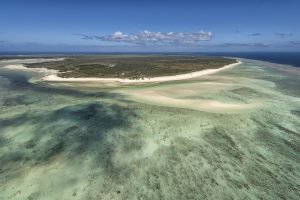 Europa is the biggest of the Eparses islands, in the south of the Mozambique canal, half-way between Eastern Africa and Western Madagascar. It is a low pentagonal island of volcanic origin, surrounded by a belt of dunes. An interior lagoon laying in the northeastern third is encased in mangrove woods.
Flora consists in dry euphorbia woods in the north and grass plains in the south. Unlike the other Eparses islands, the indigenous vegetation of Europa has been kept rather untouched.
Avifauna is rich and varied: 13 different species of birds among which 2 endemic subspecies are present on the island. Turtles come to lay eggs on the beach by the thousands. The islands also host wild goats, two endemic reptilian species, and, episodically, large squadrons of mosquitoes that hinder outside work after sunset.
An environmental ranger complements the military detachment on site, in order to provide a follow-up of fauna and flora.
The Subantarctic islands
Crozet archipelago, Kerguelen Islands and Saint-Paul and Amsterdam are the three southern districts administrated by the TAAF. To ensure permanent French presence aground, operational bases are built on each of them than can host up to a hundred people annually. In order to preserve the terrestrial and marine extraordinary natural heritage, the islands, and part of their exclusive economic zone (EEZ) are classified as a national nature reserve by interministerial decree.
Crozet archipelago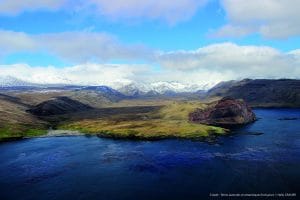 Crozet islands (340 km²) are composed of five volcanic islands, divided in two groups: Pigs, Apostles and Penguins islands named Cold islands form the western part, while Possession and East islands expand eastwards. Subantarctic climate is characterized by high winds (up to 180 km/h), changing weather, important rainfalls and temperatures that range from -5 °C to 20 °C.
Crozet islands were discovered by the French expedition led by Marc-Jospeh Marion-Dufresne who sent his mate Julien Crozet on January 24th 1772 to claim French sovereignity over these lands. British captain James Cook then named the islands after Julien Crozet, before naming neighboring Marion island, next to Prince-Edward island, after Marion-Dufresne.
Crozet islands were first administrated by the government of Madagascar, French colony at the time. They were later attached to the French Southern and Antarctic Lands after their creation in 1955. In 1961 is sent the first mission of Possession Island, followed two years later by the construction of permanent base Alfred Faure, named after a meteorological engineer and pioneer of subantarctic expeditions. Today, about 25 people ensure permanent presence of Possession Island and are relieved on an annual basis.
Crozet islands host four penguin species, especially macaroni penguins and royal penguins, along with large colonies of petrels, albatross, skuas, and seagulls. Several marine mammals are also represented: seals, elephant seals, killer whales… Kerguelen cabbage and "azorelle" are among the most iconic plants of the archipelago.
Kerguelen Islands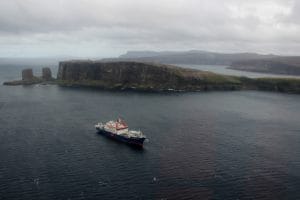 Kerguelen Islands consist in one main island surrounded by more than 300 islands and satellite islets accounting for a total area of 7,200 km², with a rugged coast line allowing numerous gulfs, bays and fjords to penetrate the land. Highest peak is Mount Ross (1850 m) and Cook glacier covers a large part of the Eastern side, despite an important decline due to worrisome ice melt.
The archipelago was discovered on February 12th 1772 by French sailor Yves Joseph Kerguelen de Trémarec, and 4 years before James Cook. In 1893, French aviso Eure officialy claims French sovereignty over Kerguelen. The same year, the government cedes the exploitation of the islands to the Bossière brothers for fifty years. Permanent station "Port-aux-Français" is then created in 1950 and presently hosts 40 to more than a hundred people throughout the year.
Weather is very windy (150 km/h regularly), and rain and snow precipitations are frequent all year round. Mean temperatures settle around 4,5 °C.
Located on the crossroad of cold waters ebbing from Antarctica and the hot streams descending from the Indian Ocean, that fosters the production of entire food chains, the Kerguelen Islands form a unique meeting point for marine animals, especially those in need of solid ground to reproduce. They host impressing colonies of elephant seals, penguins and albatrosses. Terrestrial vegetation is rather poor, formed by toundra landscapes near the littoral and sparse tufts of grass and lichens as soon as terrain gets rougher. The marine vegetation is however very exuberant, marked by the presence of vast underwater forests of Macrocystis or by a coastal fringe of Durvilleas.
Nevertheless, original ecosystems have been deeply modified by the combination of overexploitation (whale and seal hunt during the twentieth century) and introduction of alien species: rabbits, cats, rats, reindeers, trouts, etc.
Saint-Paul and Amsterdam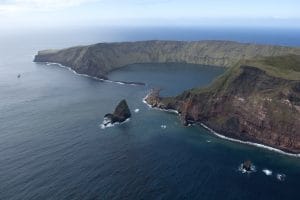 Saint-Paul and Amsterdam district is composed of two volcanic-origin islands stretching 85 km apart, that benefit from a mild oceanic climate that exempts them from snow and frost during winter. A permanent base built in 1950 on Amsterdam (Martin-de-Viviès) still hosts 20 to 40 people today.
Amsterdam (58 km²) was named after Dutch sailor Van Diemen's vessel Nieuv Amsterdam that reached the island in 1633. French sovereignty was then proclaimed in 1892. Ecosystems have been severely affected since the discovery of the island by human activities (hunt, deforestation) and the introduction of exogenous species (rats, cats, cattle…).
Amsterdam is the only territory of the French Southern Islands where a species of tree takes root: the Phylica arborea, present in the eastern side of the island. Only a few were left in 1980, urging the TAAF to launch a restauration program that succeeded in planting more than 7000 trees in 30 years.
Many sea birds nest on the hillsides, one of which the endemic Amsterdam albatross. Seals, elephant seals and leopard seals can be observed on the littoral.
Saint-Paul (8 km²) is characterized by the presence of a flooded central crater, connecting with the sea at a narrow breach. Common subantarctic fauna and flora settles on the slopes of the island, while lobsters are found by the thousands in the nearby waters.
Terre Adélie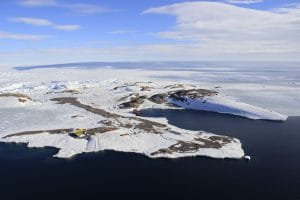 Terre Adélie is an angular sector of Antarctica stretching from the 136th and the 142nd meridians East longitude, over 432 000 km², between the South pole and the Dumont d'Urville sea. Climate is characterized by low temperatures (down to -30 °C) and violent winds charged with ice particles named blizzards.
From Mars to November, a two meters thick layer of ice gradually covers the sea and blocks the maritime access to the bases. When summer comes back, this ice cap melts down and drifts away, allowing the ship to finalize its logistic operations.
Terre Adélie hosts two bases: summer station Cap Prud'homme, departure point to Franco-Italian station Concordia, and permanent station Dumont d'Urville. The latter is permanently occupied by 30 people, mainly scientists from IPEV Institute (Institut polaire français Paul-Emile Victor), along with a mission manager, a doctor, a radio operator and other technicians, and comprises more than fifty installations: accommodation, refectory, kitchen, library, hospital, laboratories, etc.
Since the ratification of the Washington Treaty in 1959, the international community agreed on defining Antarctica as a continent dedicated to peace and science.